Life in Iron Age Orkney 
Dwellings
Iron Age Britain is marked by the domestic architecture of the period. Broadly speaking, in Britain, we see the roundhouse as the quintessential dwelling style.  Styles include the Atlantic Roundhouse, Wheelhouse, Crannog, and Broch.  The latter is exclusive to Scotland.  The most famous examples of surviving Brochs are in the northern isles and Scatterlands (Orkney and Shetland).
Roundhouses, an example shown below, utilized wattle and daub panels and a thatched roof, and were typically 5-15m in diameter.
Crannogs are roundhouses built on artificial islands on lochs, and are found in Scotland, Ireland, and Wales.  Crannogs were used as dwelling from the european neolithic period to the 18th century, but are particularly indicative of Bronze and Iron Age dwelling styles.  Check out The Scottish Crannog Centre, Loch Tay, Perthshire, Scotland.
Brochs are Iron Age drystone round dwelling structures found in Scotland, exclusively, with many spectactular examples in the Caithness-Orkney-Shetland culture triangle.  I consider Brochs to be badass Iron Age Scottish castles, with their central ground level communal area, spiral outer staircases, and 'apartment' style familial unit dwellings.  Pictured below are Dun Carloway Broch on the Isle of Lewis, and Broch of Mousa in Shetland.
The wellknown Midhowe Broch in Roussay, Orkney is central to a surrounding Iron Age settlement surrounded by smaller buildings and structures, including the Midhowe chambered cairn.  These outbuildings were likely originally used as smaller houses and later become specialized workshops, including one with a surviving iron smelting hearth. Midhowe Broch includes a surviving water tank, hearth, and room walls.
Wheelhouses are more complex roundhouses, distinct to the northern and western isles (Hebrides and Scatterlands), Caithness, and Sutherland (author's note: I am continuing to explore the interelated cultural community that I believe formed and thrived in the Germanic Iron Age in the north Atlantic).  Notable examples of wheelhouses include Jarlshof (Shetland) and Gurness (Orkney). So many interesting nuances when exploring wheelhouses of the Iron Age.  Average sizes are 4m -11.5m in diameter, and were constructed between 25 BCE and 380AD (a significantly smaller date range than the other dwelling styles). The majority of the "aisled roundhouse" style (the distinctly Hebridean/Scottish style wheelhouse) are unique in that they are not associated with Broch sites, unlike the wheelhouses found elsewhere, and they were typically dug into the landscape with only their thatched roof visible above ground. This, their limited scope of geographical range, and their dates corresponding with Roman occupation in southern Scotland, may indicate that this dwelling style was characteristic of a "frontier" culture that may have been policical or defensive in nature. Wheelhouses have also been suggested to have been ritualistic edifices. This idea comes from a three distinct and unique features: (1) animals were buried under the floor (most common finds are of lamb bones), (2) a large portion of sites include a menhir (middle Bronze Age standing stone), and (3) the use of red and black mortar.
Pictured below: Gurness in Orkney, Old Scatness in Shetland, Jarlshof in Shetland (interior and exterior)
Resources ~
The first (permanent) houses: an interpretation of the monumental domestic architecture of Iron Age Orkney
Excavations at a Multi-Period Site at Greenbogs, Aberdeenshire, Scotland and the Four-post Timber Architecture Tradition of Late Neolithic Britain and Ireland. 
Fortified Settlement and the Emergence of Kingdoms in Northern Scotland in the First Millenium AD 
Crannogs and Later Prehistoric Settlement in Western Scotland
A 1st Millennium BC Atlantic Roundhouse in Argyll: Survey and Excavation at Loch Glashan
A Later Prehistoric house and Early Medieval buildings in Northern Scotland 
The broch cultures of Atlantic Scotland. Part 2 -the Middle Iron Age: high noon and decline, c. 200 BC – AD 550.
Crannogs as cultural soil artifacts? Loch of Isbister, Orkney, Mainland
Rethinking the domestic architecture of Early Neolithic Orkney
Death and Dying
Maeshowe, while Neolithic in origin, lays a breaktaking foundation for the cultural practice of chambered cairns in Scotland, and Orkney specifically. This chambered cairn / passage grave is most well known for the planetary alignment each year on the winter solstice.  (There's also some pretty cool Pictish and Viking graffiti on the interior walls)
Mine howe, one of the most famous Orcadian burial site, is an Iron Age subterranean chambered Cairn in Tankerness, just south of Kirkwall.
Midhowe Cairn, as mentioned above, is associated with the Midhowe Broch and is found on the coast of Roussay, Orkney.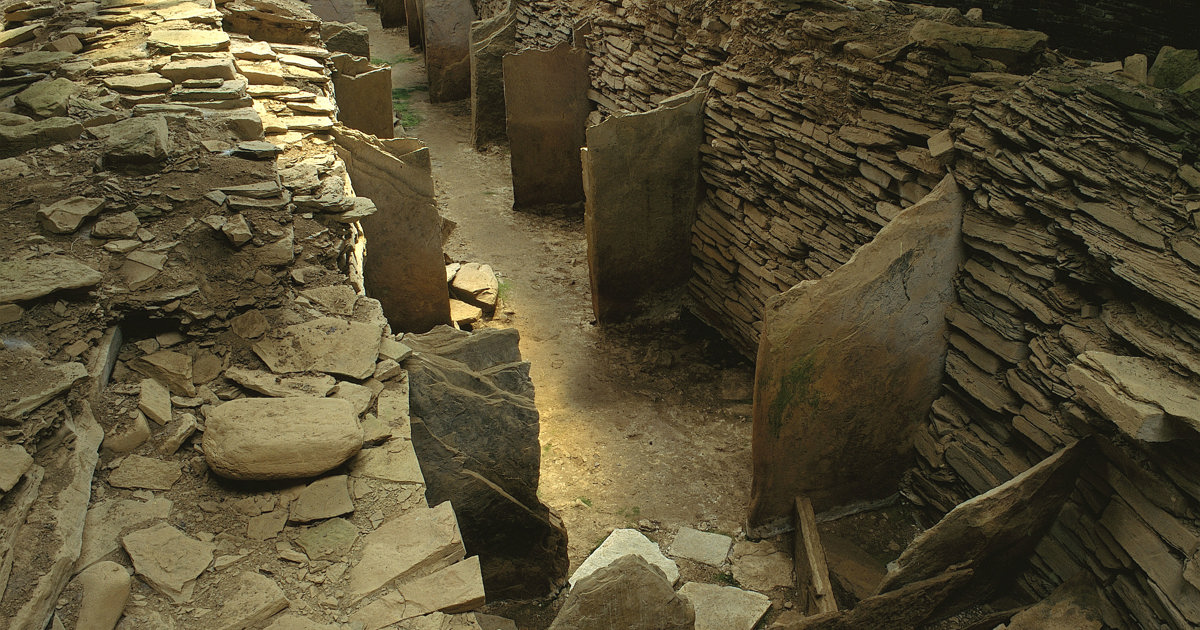 Resources~
Orkney: the 6th province of Britannia? New evidences from Mine Howe
Mapping of Astronomical Alignments in Neolithic Burial Cairns in the Orkney Islands
Early medieval burial in Scotland: new questions
Excavation of a double cist burial from Gyre Farm, Orphir, Orkney
The Useful Dead: Bodies as Objects in Iron Age and Norse Atlantic Scotland 
Your House or Mine Tomb? Exploring the Temporal, Spatial and Social Relationship between Chambered Cairns and Settlements During the Orcadian Neolithic
Migration and the creation of identity in the Viking diaspora: A comparative study of Viking Age funerary rites from northern Scotland and Møre og Romsdal
The excavation of two Bronze Age burial cairns at Bu Farm, Rapness, Westray, Orkney
Radiocarbon dating and marine reservoir correction of Viking Age Christian burials from Orkney
Legitimation through Association? Scandinavian Accompanied Burials and Prehistoric Monuments in Orkney
Culture Exchange
An Ethnic Enigma – Norse, Pict and Gael in the Western Isles
Seafaring and Seafood
People and Landscape at the Heart of Neolithic Orkney
The role of cetacea in prehistoric and historic Atlantic Scotland
Later Prehistoric and Early Historic Settlement Archaeology of the Western Seaways: A Study of the Western Settlement Record from Shetland to Brittany …
Archaeo-ichthyological evidence for long-term socioeconomic trends in northern Scotland: 3500 BC to AD 1500
Fish trade in Norse Orkney and Caithness: A zooarchaeological approach
Further isotopic evidence for seaweed-eating sheep from Neolithic Orkney
Feeding grounds of the eastern South Pacific humpback whale population include the South Orkney Islands
Marine resource intensification in Viking Age Europe: the molluscan evidence from Quoygrew, Orkney
Characterizing Anthropic Sediments in North European Neolithic Settlements: An Assessment from Skara Brae, Orkney
Optically stimulated luminescence (OSL) dating of coastal aeolian sand accumulation in Sanday, Orkney Islands, Scotland
The vertebrate biostratigraphy of the Rousay sequence in the Middle Devonian of Orkney, Scotland
Crofting
Craft Specialisation in Iron Age Orkney.
Viking Orkney (and a bit of Shetland): 10th C onward
Viking Age and medieval Orkney
The Northern Earldoms: Orkney and Caithness from AD 870 to 1470, by Barbara Crawford
Earl Rögnvaldr of Orkney: a poet of the Viking Diaspora
EYNHALLOW, ORKNEY SURVEY 2007 DATA STRUCTURE REPORT
Northern worldviews in post-medieval Orkney: towards a more holistic approach to later landscapes (Historical Archaeology 2015 Vol 49(3): 126-148))
Imagining Shetland before the Vikings
Historiography of Picts, Vikings, Scots, and Fairies and Its Influence on Shetland's Twenty-First Century Economic Development
What was the Viking Age and when did it happen? A view from Orkney
Thomas, A. 2016. Written in stone: geology and graffiti in Orkney. Stravaig 5, pp.40-42.Nordic voices in Scottish literature – nineteenth and twentieth Century literature from Shetland and Orkney
Interpreting the Viking Age to medieval period transition in Norse Orkney through cultural soil and sediment analyses
Does size matter? Stone axes from Orkney: their style and deposition
The Orkney Dictionary: Creating an Online Dictionary Efficiently from a Printed Book
The Late Norse 'coral' or maerl-limes of Orkney
"Making Sense At Two Removes: The World As Seen From Orkney"
Between the Wind and the Water: World Heritage Orkney
The Establishment of the Scots Language in Orkney
Iron Age and Sundry:
A resource list for resources that don't fit anywhere else. 
Rodents: food or pests in Neolithic Orkney
Proceedings of the 17th Iron Age Research Student Symposium, Edinburgh. 
Analysis of Orkney vole (Microtus arvalis) remains from the Holm of Papa Westray
A summary round up list of Scottish archaeological human remains that have been sampled/analysed for DNA as of January 2019 (This list includes Orkney, specifically)
The Beaker Phenomenon and the Genomic Transformation of Northwest Europe
Pursuing the Penumbral: the deposition of Beaker pottery at Neolithic monuments in Chalcolithic and Early Bronze Age Scotland 
Artefacts with the human remains in Area C (Report on jet beads and bronze awl from an Early Bronze Age burial place at Cnip on the Island of Lewis, Western Isles, Scotland)